WTF
Pimp Sentenced to Death in Las Vegas
LAS VEGAS  – Today, Ammar Harris, 29, who was convicted in the 2013 fatal shooting and fiery crash on the Las Vegas Strip, was sentenced to death row.  The  day before, Tuesday, Nov. 3, the jury only took 30 minutes to find him guilty.
When the sentence was read, family members of the victims cheered..
On Feb. 21, 2013, in the pre-dawn hours Harris argued with another pimp, Kenny "Clutch" Cherry Jr. in the valet of the Aria hotel and casino after leaving Haze nightclub inside.. It's speculated that the two men argued over a prostitute..
During the argument Harris pulled out a wad of cash to show that he had money too.. Both men left the scene..
Minutes later, right down the street,  Ammar Harris told his girl, Yenesis Alfonso who was in the passenger seat, to recline her seat back and to let her window down…… 
Harris pulled his black Range Rover alongside the victim, Kenny Jr.'s  Maserati and asked him a fatal question "What's Popping?"
Kenny responded "Do I know you??"..   Ammar found that disrespectful, according to the prosecution..
Instead of driving away from the Maserati, Harris cut the vehicle off and drove next to it at a stoplight on the Strip before firing from his .40-caliber handgun on the cross streets of Flamingo & Las Vegas Blvd, near the Bally's casino.
Cherry's car crashed into a taxi, causing an explosion that killed driver Michael Boldon and his passenger, Sandra Sutton-Wasmund of Maple Valley, Wash.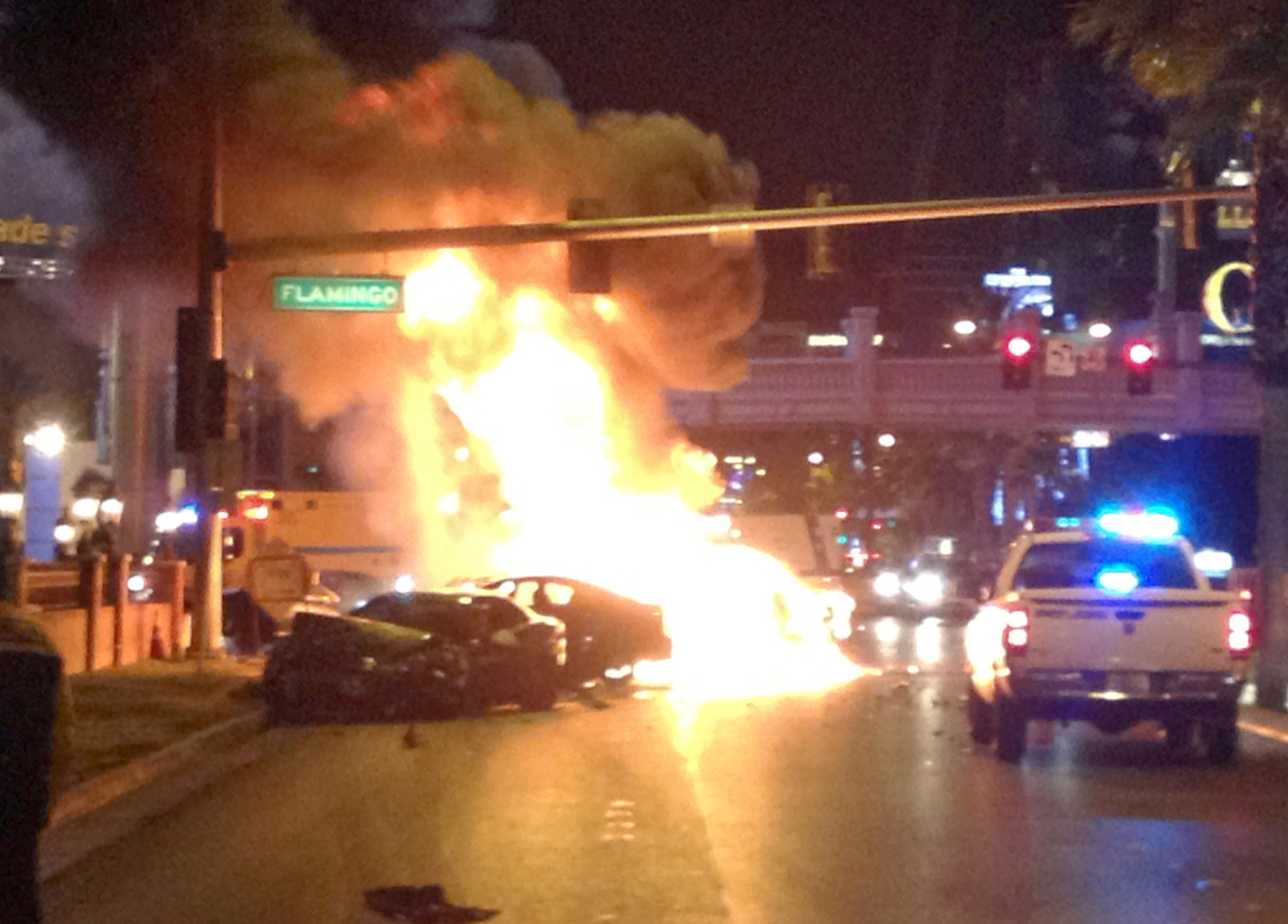 Harris fled the scene and headed to a strip club to party the night away.. His vehicle was later found a block away inside a condominium complex..  Harris was found in California and extradited back to Las Vegas.. 
The girl who was inside the car with Harris at the time of the shooting, Yenesis Alfonso, testified against him in order to get a plea deal in her soliciting case..
Harris was in court when Yenesis tesified against him, but was not present in court for his sentencing phase, on Wednesday.
Earlier in the day, the jury was given instructions on deliberating on a punishment for self-described pimp.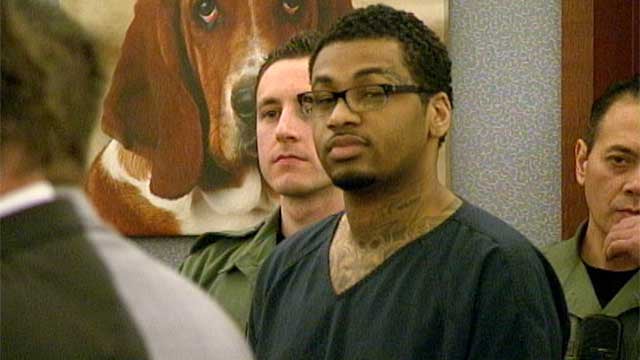 Harris faced either the death penalty or life in prison. The judge also laid out other sentencing options including 50 years in prison and life in prison with parole.
On Tuesday, prosecutors and defense attorneys wrapped up their cases on determining Harris' fate. Prosecutors called family members of the victims to the stand in an emotional afternoon of testimony.
"People like him will not be tolerated in this city," said Michael Boldon's brother, Tehran Boldon. "He's done. His career is over. His pimp days are over. … No more Ammar Harris. That's it. It's a wrap."
Bolden also said Harris deserved the death penalty.. 
"It tore me up. I can't sleep. I don't eat. I'm so devastated," Heidi Cherry (pictured below), the mother of shooting victim Kenneth Cherry Jr., told the court. "It just tears me up."
According to Heidi Cherry, her son's death was too much for his great-grandmother.
"It literally killed my grandmother. She was 106 years old. She lived in her own home. He came down every weekend to see her," Heidi Cherry said.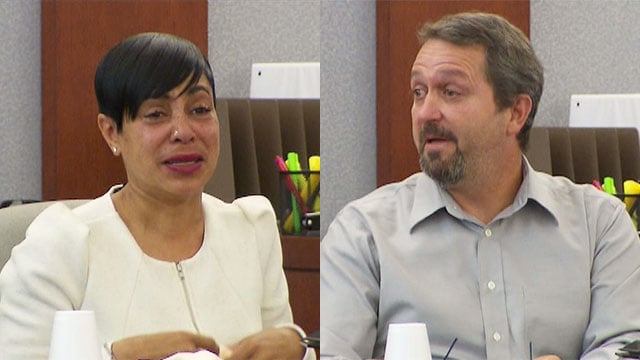 Prosecutors also called James Wasmund (pictured above) to the stand. His wife, Sandra Sutton Wasmund, was in the taxi cab that was impacted by Kenneth Cherry's Maserati in the crash prompted by the shooting.
"I just hope she's proud of us," James Wasmund said. "We're not doing well, but we're trying."
Many in the jury were also visibly touched by the stories and pictures the family members shared of the victims.
Harris was absent to see those pictures after exercising his right to not be present for the the penalty phase.
Instead, his defense attorneys worked to build a case in sparing his life. They dug into Harris' history to explain what could have lead him to a life of crime.  
A psychologist basically testified that Ammar's mother was crazy and often talked about UFOs,  that the government reserved coffins for 2 million people and introduced bathsalts into communities.. That the bad weather was indication that God is angry with the world and other conspiracy theories..
Indirectly, the psychologist penned his mother as bat sh#t crazy so it's easy to understand why Harris came out the way he did..
His mother also banned everyone in the family from cooperating in the case, even to help Ammar get life instead of the death penalty…
Harris told the psychologist his mother was only happy when he brought her money. 
The forensic psychologist, Dr. Shera Bradley,  believes it was his childhood of neglect and abuse that lead to his choices. She testified Harris reported being sexually abused by an adult male cousin when he was seven-years-old. She also mentioned he did not attend school or visit a doctor until he was 16.
"So, basically, when we have these damaging and impairing factors in our life, it affects choice in such a way that the more damaging and impairing factors, the less culpability," Bradley told the court.
Tales of the abuse Harris' prostitutes suffered will make you cringe..

Harris attacked Courtney Harper, on at least three occasions, prosecutors said. She was ironing his shirt and he told her he loved her. When she refused to return the gesture, he held a hot iron to her face. Later, he loaded a live round into a revolver, placed the gun against her head and pulled the trigger. On another occasion, he punched her in the eye after she told him he was too drunk to drive.

Prosecutors said he also attacked Yenesis Alfonso at least 100 times.

She was inside the Range Rover with Harris when he fired five shots on the Strip. He threatened her family, broke her ribs and twisted one of her knees, causing it to "pop out." He shoved her into a dresser and held a hot iron over her head.

"He repeatedly dropped the iron, only to catch it before it came into contact with her face," prosecutor Pamela Weckerly wrote. "The iron was on and the witness could feel the heat radiating."
At the time of Harris' sentencing in the sexual assault case, prosecutor Lisa Luzaich said: "There is nobody who can say he's a productive member of society."
WATCH THE VERDICT BELOW

WATCH THE ENTIRE TRIAL BELOW

In 2012, another Las Vegas pimp, Ocean Fleming was sentenced to LIFE in prison for pimping and beating up one of his prostitutes..
The city is coming down hard on Pimps…
Comments
comments